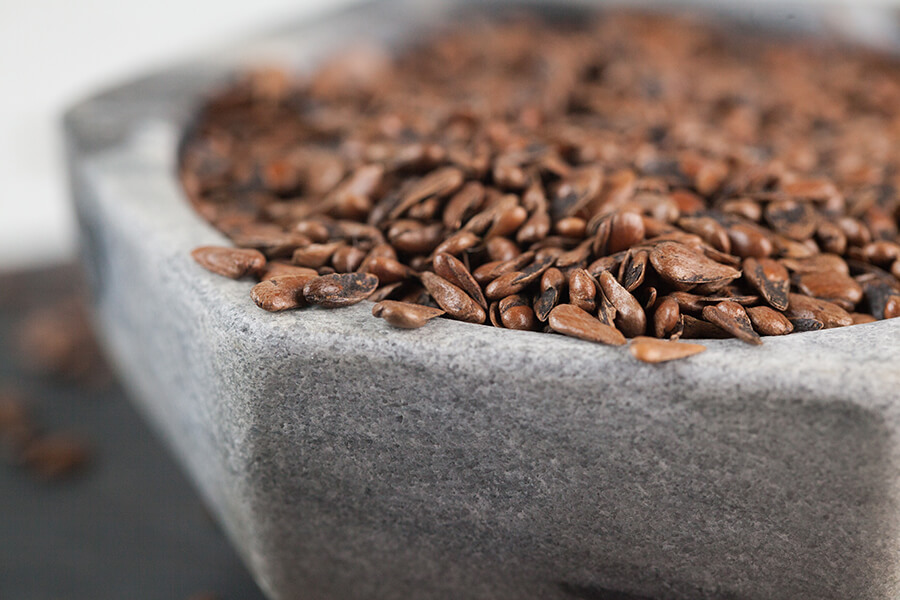 Elements of noni: the noni seed
Noni seeds have been used more and more by Morinda over the years
Noni is one of the purest miracles of nature. The noni tree grows in abundance on the islands of French Polynesia. The thick, broad leaves carpet the landscape, the fruit glistens in the South Pacific sun, and deep within the noni fruit the seeds eagerly await their chance to start the cycle of life over again.
These elements of noni-fruit, leaf and seed-make up the foundation of Morinda's product development strategy. They have been known, both anciently and in today's modern world, to maintain health and reveal brilliant beauty. Noni has been used and loved for thousands of years, and it is our great pleasure to introduce a new generation to nature's most sublime miracle.
The first thing you should know about noni seeds, found inside the noni fruit, is that they are tough. They were built to travel across the unforgiving ocean environment, protecting the precious life within, so the outer shell is especially strong. Inside the noni seed you'll find two magical substances: Seed oil and seed extract. But not a lot; it takes an incredible 50,000 noni seeds to produce just an ounce of Noni Seed Oil!
For that reason, Morinda is logistically the only company that can effectively use noni seed oil in its products. No other company has access to that many seeds!
Additionally, Morinda has an exclusive patent on the seed extraction process. It's completely protected.
For a long time, Morinda's only product that utilized noni seeds was Noni Seed Oil-a deep-penetrating and moisturizing oil that features incredible transdermal properties. In other words, Tahitian Noni Seed Oil has the ability to smoothly and efficiently penetrate the thick outer layers of the skin for deep-down conditioning.
But today noni seed oil can also be found in other topical products such as our Skin Supplement and Body Butter. After all, the oil from noni seeds has incredible hydrating benefits. And once again, Morinda is the only company able to utilize it.
In recent years, noni seed oil became the cornerstone of a new line of products: Tahitian Noni Essential Oils. These are the only essential oils in the world that feature the wonderful benefits of noni seed, combined with the very best in essential oil extracts. This is especially significant because of noni seed oil's transdermal benefits, which make it so the essential oils are more easily absorbed into the skin. So the topical benefits of Morinda's oils are especially effective. Of course, the oils can also provide aromatic benefits. There's all sorts of ways to enjoy Tahitian Noni Essential Oils (click here to learn more).
But that isn't the only newer Morinda product line to tap into the power of noni seed; every TeMana-brand Noni Brightening product harnesses the power of this unique element to great effect. With noni seed oil and noni seed extract, TeMana Skin Brightening products hydrate and illuminate the skin's natural beauty. And this line has even introduced the first products to use noni seed powder: Noni Brightening Body Refiner and Facial Refiner.
Yes, it's safe to say that when it comes to valuable ingredients, noni seeds are here to stay.
Text & Image © Morinda.com , Matt Hodge