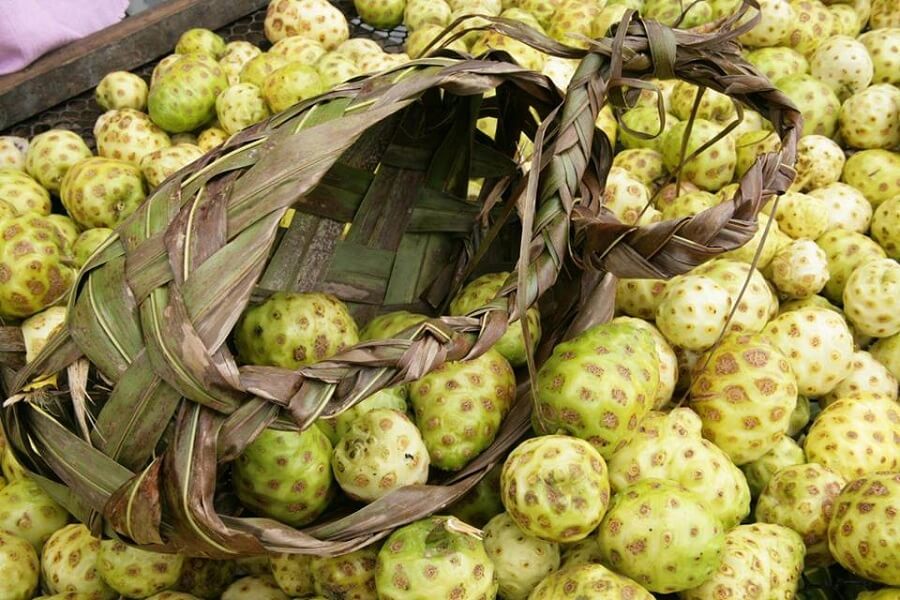 Elements of noni: the noni fruit
Of all elements of the noni tree, it's the noni fruit that has been utilized by Morinda the most
Noni is one of the purest miracles of nature. The noni tree grows in abundance on the islands of French Polynesia. The thick, broad leaves carpet the landscape, the fruit glistens in the South Pacific sun, and deep within the noni fruit the seeds eagerly await their chance to start the cycle of life over again.
These elements of noni-fruit, leaf and seed-make up the foundation of Morinda's product development strategy. They have been known, both anciently and in today's modern world, to maintain health and reveal brilliant beauty. Noni has been used and loved for thousands of years, and it is Morinda's great pleasure to introduce a new generation to nature's most sublime miracle.
When you think of all the elements of noni, the noni fruit itself is likely the first thing to come to mind.
After all, of all the elements of noni, it's only the fruit that is consumed. Of course, very few people today ever consume raw noni fruit, but ancient Polynesians have made great use of it for thousands of years.
That being said, if you've ever had Tahitian Noni Juice, you've consumed noni fruit. The fruit contains pulp, which in turn contains juice. Once the noni fruit is handpicked in Tahiti at the peak of ripeness, and then washed and inspected, the fruit is turned into puree. During this process, other elements such as seeds and stems are separated from the fruit, because you certainly don't want to find any of those in your bottles of juice!
The puree is eventually combined with the proprietary blend of grape and blueberry juices for taste, as well as additional antioxidants.
Of course, Tahitian Noni Juice is not the only Morinda product that contains noni fruit. Whereas it contains noni fruit puree (as do products like TruAge Extra and TruAge Pure), TruAge Max contains noni fruit concentrate. Meanwhile, Original Concentrate and Joint Concentrate contain noni fruit juice concentrate.
Consuming Tahitian Noni Juice has enhanced the lives of millions around the world. There are almost too many stories to share! The noni fruit has been studied and researched for decades, and it has been clinically shown to help maintain healthy immune system function, energy levels, heart function, antioxidant activity, cholesterol levels and so much more. Tahitian Noni Juice has been beloved by customers for over 20 years.
And it's not just consumable products that utilize noni fruit; classic products like Skin Supplement and Body Balance Cream incorporate noni fruit, and every single TeMana-brand product in the Noni Brightening line also contains noni fruit juice, giving them fantastic topical properties.
With outstanding internal and external uses, noni fruit is one of the most versatile and exciting elements of noni. Try Tahitian Noni Juice today and see for yourself!
Text & Image © Morinda.com , Matt Hodge